"Laura hit her targets with her new personal trainer."

"Bernie and Anna had an amazing wedding day."

"Chris got his new house decorated trouble free."
Find the service professionals that you need
How it works
The quickest and easiest way to find professionals.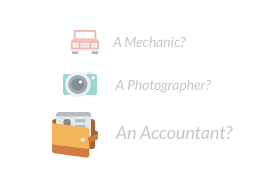 Tell us what you need
You can give as much or as little detail as your want.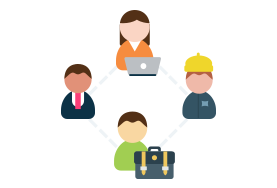 We'll find pros to help
We'll search the whole market and within hours pros will contact you on Bark.com.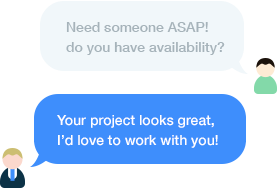 You choose who to talk to
Chat to pros on Bark, exchange contact details when you're ready and hire the best pro for the job.
Customer Stories
We have helped thousands of customers find what they need.
IMPROVED FITNESS
"Such a great free service - it saved me so much time. Quick, easy, hassle free - and I found my perfect personal trainer!"
OSCAR KELLY, Exeter
PARTY CATERING
"I had no idea how I was going to find a caterer. But I just announced it on Bark.com, and received several great quotes."
TRISHA JONES, Manchester
NEW KITCHEN
"Thanks to Bark I spoke to everyone on the market, in less than 24 hours and without having to lift a finger - great!"
CHRIS DAY, Cardiff
WEDDING PHOTOS
"We spent days trying to find a wedding photographer before trying Bark. I wish we'd used Bark right from the start."
LUCY TUCKER, London
Bark is better
Bark works for you, and unlike other services we won't sell you out.
Better than search engines & directories
We've all been there. Searching Google, clicking the ads, calling people, getting voicemail, sending email, waiting for them to come back to you. It's so inefficient. We blast out your requirements to the whole market and let them pitch to you before you decide who to talk to.
Better than Trusted Marketplaces
We called them closed marketplaces. Services like Rated People, Thumbtack and MyBuilder just sell your requirements to the highest bidder. They'll only send your requirement to suppliers who pay. It's a dirty business that doesn't result in the best deal for you. Bark contacts everyone, whether they're signed up to Bark or not.
We'll tell the world what you want
We use a combination of technology and people to actively go out and find suppliers for you. We don't charge suppliers to talk to you - giving you greater choice and a better deal.
Stay organised, stay private
Don't end up with quotes lost in your email, voicemail, or in the post. With Bark all of your quotes end up in one place - where you can compare and decide who to talk to. And best of all, the pros you decide not to talk to won't have your contact details to use for annoying marketing calls.