We're thrilled to announce our debut in the Otta.com Rocket List 2021, recognising the top 50 companies to accelerate your career in London – what a way to kick off the year!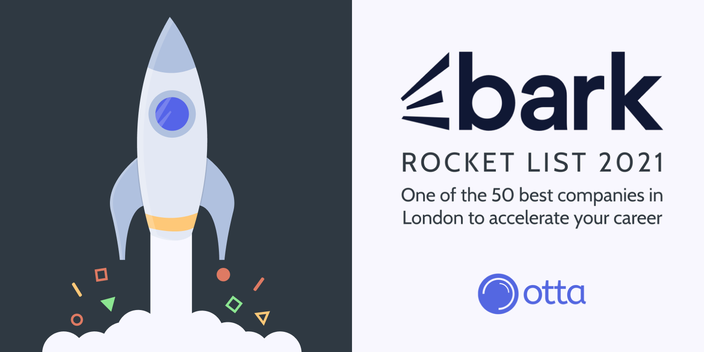 Find out why Bark's a great place to work – https://otta.com/rocketlist/Bark
Our growth has been nothing short of phenomenal. In 2020 alone we hit some huge milestones – launching in the APAC region, opening our first office in Melbourne, reaching 10 million customer requests, and increasing our team from 40 to 85, to name a few. When you look at it in the context of 2020, that's some pretty impressive stuff. 
This wouldn't have been possible without our amazing team. From the customer success agents who support our professionals in everything and anything to the development team who strive to make our product the best it can be, each team and individual is committed to propelling us towards our ultimate goal: to be the Amazon of Services. 
Bark's growth is matched by the growth of its employees. We're in a scale-up phase, so new roles and opportunities are always being created to solve emerging challenges. You don't need to be the most experienced team member to progress – talent and determination alone are enough. This culture of inclusion is what makes Bark such an exciting place to work. But don't just take our word for it – here's what the team have to say: 
"Not only has my career grown since I started at Bark, but so has my confidence in the work I produce, my willingness to continually be learning, and my sense of accomplishment. None of this could be achieved without dedicated management and the constant support from other team members."
Molly, Email Marketing Executive
"I was hired as a temp on the customer success team where I worked for 5 months. I was then promoted to Partnerships Manager and I've been in this role for 6 months. It's a complete career change for me – before I was working in prisons and tertiary education in New Zealand, but I really do love it here. Bark has made me aware of other opportunities within the business right from the start and has fully supported and encouraged my career growth."
Olivia, Partnerships Manager
"I joined Bark as a Customer Success Agent and moved into a marketing secondee role after a month. 3 months later I was made permanent, and I've never looked back. Bark recognises your strengths and helps you to cultivate them. I've been in here for 7 months and I can't believe how much I've grown when I look back and reflect. The amount I've learned in such a short time is just incredible, and I'm so grateful for that."
Katie, Content Executive  
"I joined Bark as a temporary employee in 2019 and since then I've been promoted twice! First to a Customer Success Team Leader and now to a Customer Success Manager. I don't think any other company would have offered me the same opportunity for growth, and in such a short amount of time!"
Jamaal, Customer Success Manager 
Achieving the unrivalled growth Bark has in such challenging times is a reflection of its outstanding team and the innovative culture it promotes. 
We can't wait to see what's in store for 2021 as we continue on our journey!