Are You The Best At What You Do?
We want to acknowledge the best Sellers on Bark who offer an outstanding service to their clients, and help you stand out from the crowd.
Introducing the Certificate of Excellence Awards 2018/19.
Achieve Excellence
These are the three main factors that we will be using to pick the best Sellers for the award.
1. Reviews
2. Response Time
3. Profile Completion
There's more detailed information below on how to be the best in these three areas and be awarded the Certificate of Excellence Award 2018/19.
Winners will be announced December 2018.
Reviews
To qualify, you need to have a strong review rating.
How can I get more reviews and improve my score?
Add Reviews Badge
Add the reviews badge to your website to encourage those who may not have been hired via Bark to leave feedback.
Link Accounts
Link your Google and Facebook accounts and we'll pull through any reviews (these will show on your reviews badge).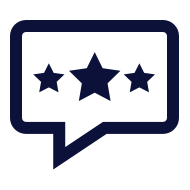 Request Reviews
Request reviews from your previous Bark customers.
Request Reviews from Clients You've Secured Outside of Bark
You can even request reviews from customers you haven't secured from Bark.
Response Time
To qualify, you'll need to respond to requests quickly – we recommend within 12 hours or less. The faster you respond, the higher your chances of securing new business.

Enabling One-Click Response can improve your response time by up to 43%.
Profile Completion
To qualify, you should have a strong Seller profile. Our top sellers have an average profile completion of 70%.
Your profile is the first place a client will go to find out more about your company before deciding whether they would like to work with you.
How can I improve my seller profile?
Link Accounts
Link your Google and Facebook accounts and we'll pull through profile pictures, photos and reviews to enrich your profile.
See How Others View You
Check how clients will view your profile to see how it will look to them, and better understand where you can improve.
Need Some Assistance?
If you require any assistance, or have any questions about the Certificate of Excellence Awards, please get in touch by emailing team@bark.com, or by calling us.
UK: 020 3697 0237 (9am-6pm Mon-Fri)
US: (424) 227-5323 (Mon-Fri 9am-8pm Eastern)