You can now display how many of our users have hired you prominently on your Bark profile.
Whenever someone hires you, simply click the new 'I was hired' button next to their Bark in the My Responses section of your dashboard and we'll automatically add them to your total.
Then, when new customers view your profile, they'll be able to see you have a proven track record of helping other Bark users with their projects – like It's Magic Time here: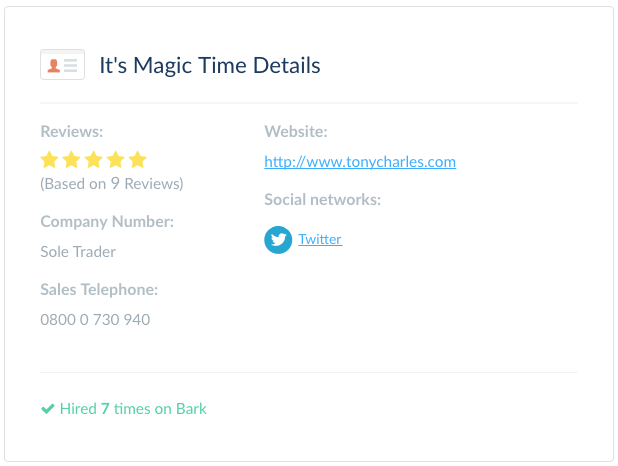 Buyers can also let us know when they've hired you using the new 'I've hired someone' button in their dashboard – and we'll ask them who they've hired when they close their Bark.
You can see all the Barks you've responded to in the My Responses section of your dashboard, so be sure to go back and click 'I was hired' for all the jobs you've secured through Bark to date.
We'll also now show you your average response time if you get back to customers quickly Bark Messenger. So be sure to respond to customers as quickly as possible to maximise your chances of success!
This feature should prove especially useful if you work in an industry like pest control or boiler repair, where  customers are often looking for someone who can help them right away.
Combined with the customer reviews you collect on your profile, these new features will give you a real edge over the competition when pitching for business on Bark.
We hope you find them useful, and look forward to helping you secure even more business in the coming weeks and months.
If you have any further thoughts or ideas about how we can help you promote your business one Bark, send us an email at team@bark.com, or leave a comment in the space below!