DIY, that classic British pastime. There's nothing better than working hard on something in your home on a nice relaxing Sunday, then being able to smile proudly the fruits of your hard labour.
Sometimes, though, it is worth getting an expert in to offer a helping hand. Courtesy of the internet and other people's home disasters, we've been able to find a few snaps of eager DIYers who might have benefitted from a little outside assistance…
The Electromaniac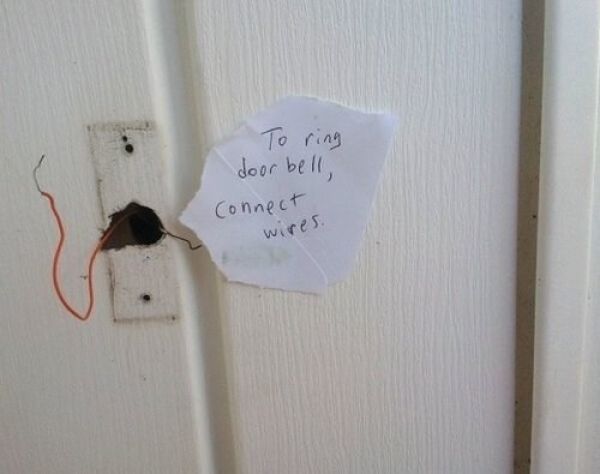 We can't help but wonder what might happen if you'd been caught in the rain… If you're not so keen on a shock to welcome you home, perhaps you'd be better off looking for a local electrician.
The Elastic Bands Enthusiast
Let's face it, if there's any way of putting that ball of elastic bands sitting on your desk to good use, this isn't it. If you value being able to turn on your taps, find a plumber here.
The Divorcee
Anyone think this is reminiscent of the German man who cut all his possessions in half when breaking up with his long-term girlfriend? It may be time to invest in a new clock…
The Acupuncturist 
Sheer genius or pure laziness? If you're sprinkler's on the blink, and you don't fancy getting this arts and craftsy, you can find sprinkler repair specialists who can help to end your garden drought.
The Tetris Champion
Some blocks were just not meant to fit together – time to find a door fitter.
The Baker
Note to self, gingerbread houses are not fit for real life purpose. Or is it processed cheese? Either way, find a roofer here.
The Scouts/ Brownies Graduate
You spent hours learning how to master the Sheepshank and the Clove Hitch, so damn it, you're going to find a way to use it! Or, accept that neon blue doesn't quite match rock red and find yourself a bricklayer.
DIYers, we salute your valiant efforts, but there is no shame in defeat. Some things are simply better left to the professionals.
For more Bark.com tips and insights, why not check out our other blogs?