We've got some exciting news. Very soon we'll be launching an exciting update to our directory pages to include Featured Pros.
"What does that mean?" we hear you cry. Well, basically we'll be giving extra visibility to some of the best professionals on Bark – and you could be one of them!
As a Featured Pro, we'll show your profile on the directory page for the service(s) that you offer. This will increase your visibility on Bark and improve your chances of getting hired.
How will we choose who to feature?
We want to show the best professionals. We'll do this by choosing the most complete profiles, with a particular focus on your company description, review score and Q&A answers.
Providing thorough information helps potential customers understand what you have to offer, and hopefully decide to hire you for the job.
Example of featured dog walkers
Show potential customers what you can offer
Ensure these key areas of your profile are completed to improve your chances of becoming featured and increase your hire rate by 60%.
1. Write a winning Q&A
2. Complete your Company Description
3. Achieve a great review score
There's more detailed information below on how best to complete these.
Writing a winning Q&A
Your Q&A allows your potential customers to find out more about you and your business.
Professionals who have compelted their Q&As are almost 2x more likely to get hired over those who have not.
1) Consider your answers
Take a moment to really think about each question before writing your response.
2) Be detailed, yet concise
Include as much information as possible within the recommended target range of 150-250 characters.

3) Be honest
Coming across as genuine is very important for building trust in your business.
4) Be professional, yet friendly
Showing enthusiasm for what you do will encourage customers to choose you over your competitors. Avoid using slang words and abbreviations, and remember to check for any typos (we recommend using Grammarly).
Completing Your Company Description
Your company description is a great opportunity for you to explain in your own words what you do and what sets you apart from your competitors.
Information like this can be a useful selling tool when convincing a potential customer to choose your business.

Take a look at the below example to see how your Company Description can be used to drive sales.
Achieving a GREAT REVIEW SCORE
A strong review score shows your potential customers that others have had a good experience with your business.
How can I get more reviews and improve my score?
Add reviews badge
Add the reviews badge to your website to encourage those who may not have been hired via Bark to leave feedback.
Link accounts
Link your Google and Facebook accounts and we'll pull through any reviews (these will show on your reviews badge).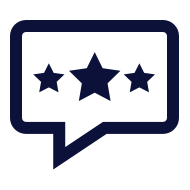 Request reviews
Request reviews from your previous Bark customers.
Request reviews from clients you've secured outside of Bark
You can even request reviews from customers you haven't secured from Bark.
Need Some Assistance?
If you require any assistance, or have any questions about becoming featured, please get in touch by emailing team@bark.com, or by calling us.
United Kingdom: 020 3697 0237 (Mon-Fri 8am-8pm & Sat-Sun 9am-6pm)
USA: (424) 227-5323 (Mon-Fri 9am-8pm Eastern)
Canada: (604) 227-5161 (Mon-Fri 9am-8pm Eastern)
Ireland: 76 888 6814 (Mon-Fri 9am-6pm)
South Africa: 087 551 7012 (Mon-Fri 10am-7pm)